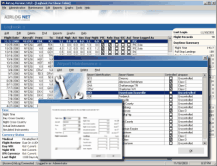 AirLog 3.0
Welcome to AirLog! Whether you are a private pilot, student pilot, instrument rated pilot, or commercial pilot, AirLog aviation software delivers powerful automated features that make logging your flight time a breeze so you can spend your time flying - not logging. AirLog provides all the features even the most demanding pilots, students, and instructors of all levels require in an electronic pilot logbook. With Airlog's intuitive interface, quick start wizard, and automatic log entry assistance, logging your flights is fast and easy!
AirLog gives you even more power with Palm OS software! Log your time wherever you are then transfer and synchronize your records with your logbook later. Combining the best features of packages more than twice the cost, AirLog is hands down the best value in aviation software on the market today!

Click here to learn about setting up your data connection.

Click here to learn more about setting up your logbook with the Quick Start Wizard.
If you have any questions, comments, or need technical assistance, email us at support@airlogsoftware.com or visit us on the web at http://www.airlogsoftware.com.
This is a fully functional version with no time limit so you can take your time evaluating it. The only limitation while unregistered is the 20 flight record limit, the ability to create multiple users, and online account access. For more information on the benefits of registration, visit the ordering and registration page.
AirLog Pilot Logbook is © Copyright 2008 by Glenn Tobin, All Rights Reserved.