AirLog makes it easy for you to log your flights while you are away and upload to your logbook later with the new AirLog for Palm OS suppliment.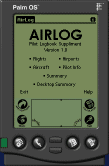 AirLog Palm OS Software
System Requirements
Palm OS 3.5 or higher
Installation
To install the AirLog Palm OS software, select "File->Palm..." from the main application menu or "Palm" from the logbook menu items just above the logbook grid. You will then be presented with the Palm detail screen.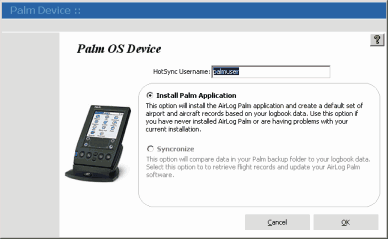 Palm Detail Screen
You will need to enter your Palm HotSync username in the field provided. Now, make sure the 1st sync default "Install Palm Application" option is selected and click the "OK" button. The installation procedure will start by verifying your palm username, then it processes all airport, aircraft makes & models, aircraft, pilot information, and type ratings records from your logbook. When the process finishes, you will be prompted with a message that your Palm software will be updated the next time you HotSync.