When you first start the AirLog Palm software, you will be presented with the main menu screen.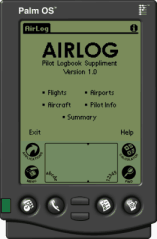 Main Menu Screen
To begin logging flights, tap the "Flights" menu item, then add at the bottom right of the flight grid.
Palm HotSync And Importing Records
To import your Palm device flight records, HotSync your Palm device then click the "Palm" logbook menu item to launch the Palm OS Device Screen. Make sure your HotSync username is in the provided field and that the "Syncronize" option is selected. Click "OK" to retrieve and import any records from your Palm device.
If you have user permissions to add aircraft and airports, any records added to your Palm software will be added to the logbook. If you don't have permission to add aircraft and airports, you will only be able to import flight records from your Palm device that use the aircraft and airport records currently in the logbook. The rest of your filght records will be left on your palm device until you are granted permissions to add aircraft and airports or until a user with the proper permissions adds the required items manually.
When records are imported to your logbook, you will need to HotSync again so your Palm device data is updated. Flight records are removed from your Palm software when they are imported into your logbook.
NOTE: The AirLog Palm OS software is not designed to save any changes to aircraft, pilot information, or airports. It will, however, update the logbook with any new aircraft and airports as well as import any valid flight records. If you modify any of the aircraft, airport, pilot information, that information will be overwritten with the data currently in your logbook at the time of HotSync.