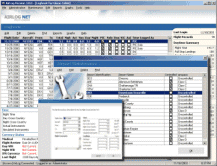 AirLog Pilot Logbook
User Defined Time Fields

AirLog provides you with the most commonly used fields for logging time and allows you to create and track your own time fields.
Multiple Legs

Log unlimited legs on each flight.
At A Glance

Quickly preview individual flight record details from the main logbook screen with AirLog's easy to navigate flight record grid and detail display.
Currency

View color coded status messages for your medicals, flight reviews, day and night VFR currency, IFR currency, last flight, total flight records, and last time you logged in to your logbook.
Totals

Know in an instant your daytime summary, nighttime summary, and grand totals with the real time totals display.
User Defined Settings

Select auto fill options for adding flight records based on last flight entered or most recent flight record.
Easy Convert and Import

Previous AirLog databases can be quickly converted regardless of current database type selected. Records can be created by hand with any text editing application or comma separated program such as Microsoft Excel for easy import.
Graphs

Bar graphs allow you to easily view your flight time in a variety of ways including; flight time by aircraft, make, model, category, class, classification, power and landings by airport class.