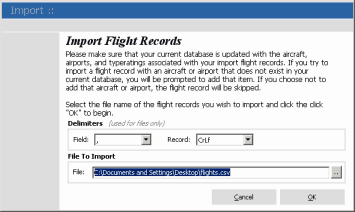 The import screen allows you to import records from several formats.
Importing From Previous Versions Of AirLog
To import records from a previous version of AiLog, select the database file ("airlog.mdb") you wish to import from and click the "OK" button.
Importing From Files
To Import records from files, select the file. The delimiters can be set based on how the file is formatted (the most common being a comma ","). Finally, click the "OK" button.
File Format For Importing
You can manually create files in a text editor to be imported into AirLog. View the Import/Export Field Layout in the appendix for more information on formatting your records for importing into AirLog.